Have you heard of the traditional practice of putting an amber necklace on an infant or toddler to relieve teething pain?
Amber is fossilized tree sap. When worn against the skin, Baltic amber beads release natural oils with analgesic and anti-inflammatory properties.
I have been wearing amber for several months now to help with wrist and neck pain, so I was pleased to see SuperMama Amber Teething Pain Relief Necklace now being sold on SuperMamaOnline.com
Amber is also said to have calmative effects. Hooray!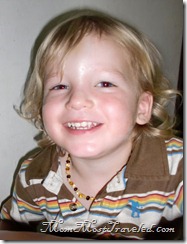 Deeds was given a necklace of Mixed Amber beads (the necklaces are also available in "honey" colored beads). 
Deeds is two years old and he LOVES this necklace. The SuperMama necklace is not made to be chewed, but it was designed with infant and toddler safety in mind and is CPSIA compliant.
The beads are individually knotted so that if the necklace breaks, beads don't go everywhere. The size of the beads is intentional, so that in the event one does get swallowed it can easily pass through baby's digestive system.
The safe screw clasp is designed to break to prevent strangulation.
Deeds did bite the necklace at first, but now he is so proud of it he has listened to our reminders that it doesn't go in the mouth.
He cries when we take off the necklace for bath time and bed time. I put it on the breakfast table so he can put it on first thing in the morning!
The SuperMama Teething Pain Relief Necklace is sized for babies aged 2 months to 2 years. I wish I had one of these a long time ago!
I have a coupon code for my readers! Discount code MomMostTraveled to get $3.00 off your purchase AND free shipping at SuperMamaOnline.com! Altogether, you get a $8 discount! The coupon code expires 2/28/10.