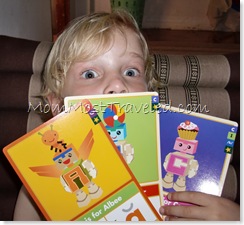 Alphabotz are here!
Alphabotz, cool robot characters on oversized flash cards are an engaging way of helping emerging readers understand all of the intricacies of the English language.
Superphonic Decoder Cards reveal stats on each robot character who wears a letter or letter team on its chest and an icon on its head that serve as constant visual references to the sound the character represents.
Each card also tells a story about its life and personality which helps memory and phonemic awareness (the ability to break down a word into individual letter sounds).
Designed for children ages 3+, the cards are large, (46– 10″ x 4.5″), colorful, and have cool robots on them! Alphabotz character cards are also very sturdy, and I love the sliding-drawer box they come with.
The Alphabotz are grouped into squads. Each squad has a designated code that appears in the upper right-hand corner of the cards.
The 26 letters of the alphabet cards are marked with a star code to make them easily identifiable, the A, E, I, O, and U of the alphabet cards are the Superphonic Shorts (the short vowel sounds of these letters), but kids are also introduced to the Superphonic Longs (long vowel sounds), the Impersonators (who "copycat" other letter sounds because they don't have one of their own), the H-Bunch (consonant digraphs), the R-Rangers (r-controlled vowels), the Vowel Teams (vowel digraphs) and even one Silent E character named Elaine who's job is to be perfectly quiet.
Alphabotz really are the whole package; they explain all of the tricky aspects of beginning reading that are encountered after consonant-vowel-consonant words are mastered.
Additional Alphabotz cards are stern librarian Miss Spella de Books, Professor Ben Letterman, a "how to" card, and a game and activity card that details numerous games and three levels of play activities.
Alphabotz Superphonic Decoder Cards retail for $19.95, and were awarded the 2009 Preferred Choice Award in Creative Child Magazine's Educational Products category.
Alphabotz Superphonic Decoder Cards were ALSO named to Dr. Toy's 100 Best Children's Products of 2009 list!
Want to buy some? Use coupon code KSBLOGS1 for 20% off the purchase of Alphabotz through Amazon.com! Note this code is ONLY good for purchases made through Amazon.com. The code expires on 12/18.
Win a set of Alphabotz Superphonic Decoder Cards!
1). To enter for your chance to win leave a comment here telling me what you like about Alphabotz!
2.) Email subscribers get an extra entry for as long as their subscription is active.
Already a subscriber? Leave me a separate comment on this post to let me know you're interested in this giveaway.
Want to subscribe? Just click here:  Subscribe to Mom Most Traveled by Email (Only verified subscriptions are entered for all the giveaways.)
3) You can tweet about this giveaway once each day for extra entry. Be sure to include a link to this post, @Alphabotz and @MomMostTraveled
Leave a comment here for each tweet. Be sure to include your twitter ID.
4.) One extra entry for blogging about this giveaway, including a link to this page.
5.) Become a friend of Alphabotz on Facebook.
This giveaway is open to US residents only. This contest will close on November 12, 11:59pm CST