It is hard for children to imagine their parents had a life before "the kids" came along.
On the other hand, it is also kind of hard to remember what life was really like before we had kids. So I guess we are even.
I can't even wrap my mind around everything that has changed about my life since I became a mother. There have been physical changes, social changes, emotional changes, value changes.
Karona Drummond has written a darling book about this very topic. Along Came You is all about the blessing of having children and how parenthood rocks our worlds.
The back cover of Along Came You describes this book as a "love song" written to children about the joy they bring to a parent and the sacrifices that parents make, transforming a simple life into an abundant life.
Along Came You is a touching read (yes, I cried a little) and meant to be a reminder of the parent heart of God.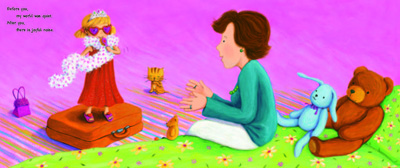 text: Before you, my world was quiet. After you, there is joyful noise.
A mother narrates Along Came You as she contrasts her life before her daughter was born to the present reality of life as a mom.
A stylish home decorated to perfection vs. walls adorned with homespun childish artwork "decorated in love", quiet evenings vs. the wild craziness of a child-filled home!
And haven't we all been here?:
Before you, I read books with a thousand pages.
After you, I read your favorite book a thousand times.
Most of us would welcome a break, but we know we would never really want to go back to "the way things were".
Along Came You beautifully expresses the special bond between mother and child, and it serves as a reminder of the immeasurable blessing of parenthood.
This beautiful book is written by Korona Drummond and illustrated by Estelle Corke. Thank you to ZonderKidz for this review opportunity!
1.) To enter to win a hardcover copy of Along Came You (ARV $15.95), comment here with some of your biggest changes that occurred in your life when you became a parent! (You may enter once a day – subsequent entries don't require you to answer the question).
Please don't just comment with "Enter me" or "Sounds great". That totally annoys me. Those entries are not eligible to win.
One winner will be chosen at random.
This giveaway is open to those with a US mailing address.
This contest will close May 29, 2009, 11:59 CST.
Closed! Winner: comment 59, Ann Williams!