Hoan Kiem lake, near downtown Hanoi, Vietnam.
After dinner at the City Cafe (or something like that), I had a foot massage at Hong Mau Don [5/F, No. 7, Dinh Tien Hoang Str, Hanoi), which surprisingly involved a young Vietnamese man sitting in my lap and asking me if I was married.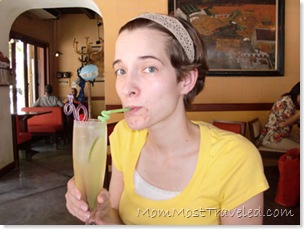 Sunday lunch at the LITTLE HANOI cafe, in downtown Hanoi. [23 Hang Gai St., Hoan Kiem Dist., Hanoi].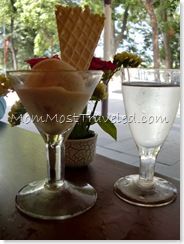 Across from the cafe are little souvenir shops. I got some dragonflies made of bamboo for the boys. I paid 30,000 dong for 2 of them. Very non-vigorous bargaining.
Fanny's Ice Cream, where I went for some after-shopping dessert, is apparently legendary for it's deliciousness. Located on the west side of Hoan Kiem lake in Hanoi, they have a wide assortment of artisan-crafted gourmet flavors.
I tried one of the flavors of the month, Salt Caramel, and was not disappointed.
My real purpose in Hanoi this week is to mentor new foreign teachers who are practice teaching on the campus of Hoc vien Ngoai Giao, the Diplomatic Academy.
I enjoy visiting the campuses of universities all over the world.