If you have never shopped at an Aldi grocery store, you are missing out. 
By offering a selection of store brand and special buy items, and having a no-nonsense, no-frills store layout, Aldi has all of your staple foods and some fancy extras for amazingly low prices.
I already was a huge Aldi fan before the holidays, but I picked up two 99 cent chocolate Advent calendars from Aldi in November, and they have been the highlight of my kid's lives this month.
Every morning, the first thing they think of when they wake up is "Can I eat my chocolate now?"
And I'm all getting cool mom points, "Yes, darling."
When I walk into "my" Aldi, the first thing I encounter is tempting bottles of wine that average about $6.99 each. Then they have fancy chocolates and sweets, chips, crackers, jerky, fruit snacks, granola bars…on to baking goods like flour, spices, oil, mixes…round the corner past the granola bars and dairy case, stroll by cereals for under $2 a box, and then encounter "special buys" like holiday toys or seasonal foods. 
Every few steps, I added items to my shopping bag. I was given a $25 Aldi gift certificate to write this blog post, and I was trying to make sure I spent at least $25. So every time I added an item to my bag, I typed in the price on my phone calculator.
By the time I finally reached $25, I could barely lift my shopping bag anymore! The prices at Aldi are so awesome, $25 goes a very long way!
Aldi has a lot of cool seasonal stuff at amazingly low price points. I found the Charlie Brown Christmas Tree for $7.99!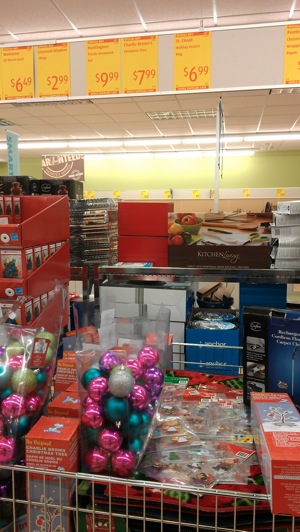 They also have real name brand toys, so Aldi can be a one-stop holiday shop before you go off to see the extended family!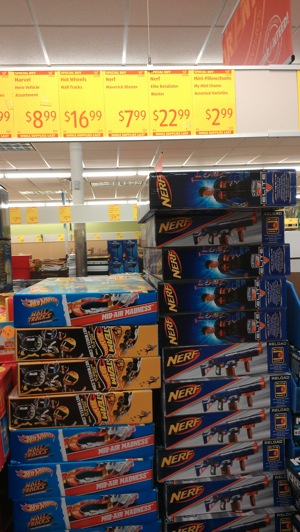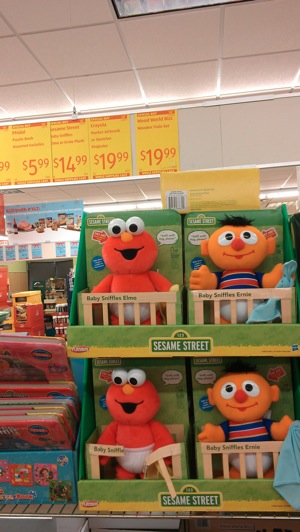 I spent only $28 and got some great holiday items like a box of hot cocoa mix with marshmallows ($1.19), cordial cherries ($1.29), and even a pomegranate for .69 cents!
I love that I can buy fresh seasonal produce at Aldi for a low price. I scored 2 broccoli crowns for .99 cents, a 3lbs of sweet potatoes for 79 cents (seriously! a bag of sweet potatoes for .79 cents!), fresh salsa for $1.99, 3 pounds of gala apples for $2.99, a container of baby bella mushrooms for $1.49…I mean my produce budget can REALLY stretch far in Aldi.
In the summer they have crazy deals like nectarines for 25 cents each, and seasonal berries for dollars cheaper than other grocery stores in my area.
Aldi's website is very informative as well. You can make shopping lists, check out their Suggested Shopping Items, ALDI Wine Pairing Tips, and Holiday Entertaining Tips!
You can save tons on entertaining staples like mixed nuts and cheese and wine! Impress your guests for less! Love me some ALDI!
"I participated in a campaign on behalf of Mom Central Consulting for ALDI. I received a gift certificate to facilitate my review as well as a promotional item as a thank-you for participating."