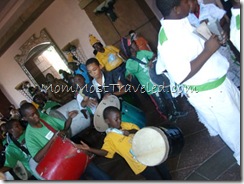 Atlantis Kids Adventures, or "aka" was a dream come true for my 5-year-old, Jojo.
On our recent press trip to Atlantis Resort on Paradise Island, Bahamas, our tour of the Atlantis Kids Adventures began with a parade rife with island beats and dances, produced by darling little children.
Atlantis Kids Adventures has various programs for children 3-12. Jojo and I spent the most time in the area dedicated to 3 to 5 year olds. I couldn't get him to leave!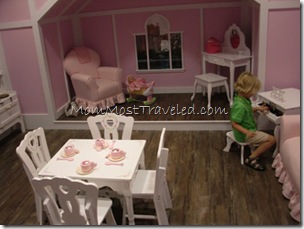 He loved playing in the "Victorian Room", a child sized living room and toy kitchen awash with pinkness. He tickled the ivories on the mini baby grand piano, and then got to work cleaning the place.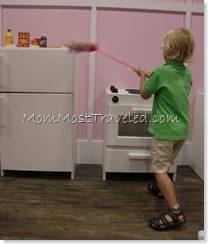 None of these photos are staged, I just snapped pictures of him while he was engaged in his own imaginative scenarios.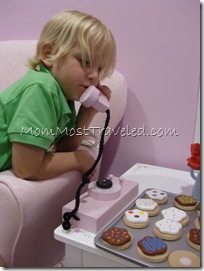 Next to the Victorian Room is an area filled with trucks, Lego, and construction toys.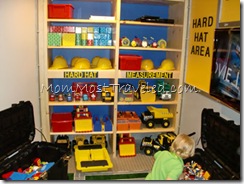 I have NEVER seen so many Lego bricks! There were three or four of these giant footlockers, each about 8 inches deep with Lego bricks and minifigures!
I thought the fully stocked play grocery store was the most adorable. It even had mini shopping carts and a cash register with paper money and plastic coins.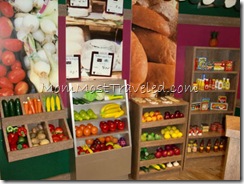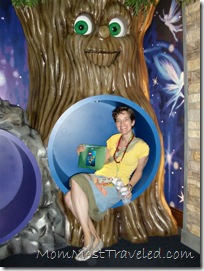 And also in the AKA 3-5 year-old wing is a quiet spot where you can sit and look at books, play board games, or listen to this giant tree tell you a story.
I was listening the tree's rendition of "The Grinch".
AKA is a great place to drop off the kids so that you can have some time to explore the cool stuff at Atlantis Resort on your own.
There are Morning, Afternoon, and Evening Adventures. The Morning and Afternoon sessions are $45 each, and the Evening Adventures (6pm to 10pm) are $60.
If your child is like Jojo, he or she won't even miss you after you drop them off at AKA! He asked to go back again the next day.
I paid my own airfare from Asia to LA, but JetBlue, Atlantis, and Lego invited me on this experience as their guest and covered my other expenses. It was amazing and I am very grateful!
Our other Bahamian adventures:
JetBlue Flight from NYC JFK airport to the Bahamas!
Marine Life Exhibits at The Dig
Making and Doing at Atlantis Resort
….
Other Atlantis Adventurers:
Bump Alison (TheBump.com)
Mara Gorman (The Mother of All Trips)
MomCentral, The DeBroff Brief
Mommy Niri
MomTrends
Mom Most Traveled
NYCity Mama
Boston Mamas
Cool Mom Picks
The Daily Grind of a Work At Home Mom
Lil Sugar
CC Chapman
Mocha Manual
Parents Magazine Goody Blog
Yummy Mummy