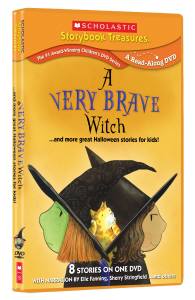 A Very Brave Witch…and more Halloween stories, a new title from the New Video Scholastic Storybook Treasures collection, will be released for sale on September 29, 2009!
Despite the title (which includes the slightly scary word "witch"), A Very Brave Witch…and more Halloween stories contains 62 minutes of mildly spooky, preschool appropriate animated storytelling.
A Very Brave Witch is a story by Alison McGee, illustrated by Harry Bliss. In the story, a little witch decides to participate in Halloween festivities, even though she is afraid of humans.
A sweet new friend shows the little witch that trick-or-treating can be fun!
The other stories on this DVD are:
* By the Light of the Halloween Moon (written by Caroline Stutson, illustrated by Kevin Hawkes, narrated by Sherry Stringfield) is a kind of frightening yet tame account of various spooky creatures attempting to nibble the toes of a young child as she hangs them over the edge of a bridge!
* A Dark, Dark Tale (written and illustrated by Ruth Brown). My son Jojo (age 4) really likes this one. It is simply a narration of walking through a darkened house, but in a very spooky, suspenseful voice. Jojo finds it delightfully frightening!
* Georgie (Written and illustrated by Robert Bright, narrated by David DeVries) is the story of a friendly ghost in search of a place to haunt. This is another one of "Jojo's picks".
* The Witch in the Cherry Tree (written by Margaret Mahy, illustrated by Jenny Williams) is the tale of a mother and son trying to save their pies from a witch who lives in a cherry tree.
* The Three-Legged Cat (Written by Margaret Mahy, illustrated by Jonathan Allen) is a funny story about a cat with a peg-leg, who is mistaken for a hat. Whoops!
* The Three Robbers (Written and illustrated by Tomi Ungerer) is a story with a happy ending, as an orphan named Tiffany convinces three robbers to do something good with their spoils.
* Little Tim and the Brave Sea Captain (Written and illustrated by Edward Ardizzone) young Tim becomes a sailor; can he prove himself on the high seas?
Would you like to win a copy of A Very Brave Witch…and more Halloween stories?
). To enter to win, leave a comment here telling me a favorite "spooky" children's story!

2.) Email subscribers get an extra entry for as long as their subscription is active.
Already a subscriber? Leave me a separate comment on this post to let me know you're interested in this giveaway.
Want to subscribe? Just click here:  Subscribe to Mom Most Traveled by Email (Only verified subscriptions are entered for all the giveaways.)
3) You can tweet about this giveaway once each day for extra entry. Be sure to include a link to this post and @MomMostTraveled. Or, just copy and paste this text below for your tweet:
Scholastic Halloween DVD Giveaway! @MomMostTraveled http://bit.ly/2XsRgo

Leave a comment here for each tweet. Be sure to include your twitter ID.
4.) One extra entry for every social bookmarking site you submit this post to (examples: Digg, StumbleUpon, posting on Facebook). Leave a comment for each with your user name.
5.) Blog about this giveaway, including a link to this post.
This giveaway is open to US residents. This contest will close on October 5, 11:59pm CST