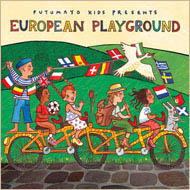 Hooray! A new release from Putumayo Kids!
Putumayo Kids Presents: European Playground
, the newest addition to the incredible playground series of music CD's, is due for release on May 19th!
If your summer vacation plans don't include a trip to Europe this year, you can expose your children to a taste of European cultures through the music and languages on European Playground
!
This world music CD for kids features 15 songs from different European nations, including Germany, Sweden, Belgium, England, Denmark, Hungary, France, Greece, Scotland, Portugal, Netherlands, Spain, Switzerland, Italy, and Ireland.
Your child can listen to music in a variety of styles, sung in the native tongues of the nations from which the songs originate.
The liner notes are printed in four different languages!
As an adult who has studied a second and third language, I truly believe that one cannot fully understand a culture without understanding the language attached to it.
European Playground
is a light-hearted, effortless way to introduce your children to other countries and cultures!
It is so beneficial for children of all ages to have exposure to other languages. We have long known that music helps kids build brain power, but don't forget that music is also something FUN that you and your children can enjoy together!
Take a look at this kooky music video from the "Change Song", sung by a group from England.

You can order Putumayo Kids Presents: European Playground
on Amazon.com; the release date is May 19, 2009!
Putumayo Kids provided me with a complimentary copy of European Playground, and they also want to give TWO Mom Most Traveled readers their very own copies!
1.) To enter to win European Playgroud, retail value $14.95, leave a comment here telling me what you like about it! (You may enter once a day – subsequent entries don't require you to answer the question).
Please don't just comment with "Enter me" or "Sounds great". That totally annoys me. Those entries are not eligible to win.
Two winners will be chosen at random.
Contest closed: Putumayo Kids European Playground CD giveaway winners: Congrats to comments number 24 and 50, Rosey and Marianna!
This giveaway is open to those with a US mailing address.
This contest will close May 22, 2009, 11:59 CST.