Thanks to CROSS Pens for partnering with me for this post!
My dad is a great dad. He is my biggest fan on Facebook, and he is a stellar grandfather to my two little men.
My dad is really, really difficult to buy gifts for. The main reason is that he mostly wants very expensive things like electronics and I'm not in a position to buy him an 80 inch SmartTV. I frequently cop out with coffee related products or books. I'm sorry dad, you DO deserve the best.
He might not ask for it specifically but he does use pens on a daily basis and also interact with fancy people. So an evergreen, ever useful gift would be a SUPER, FANCY, HIGH-QUALITY, CONVERSATION PIECE of a writing instrument from Cross Pens.
Yes.
CROSS as a brand has been around since 1846, and their fine writing instrument are fantastic and meaningful gifts that commemorate accomplishments, and honor amazingness.
CROSS fine writing instruments joined forces with Marvel to launch a series of Super Pens featuring favorite heroes: Iron Man, Captain America, and Spider Man.
The Super Pens are available in two styles.
The Century II series is finished in a high-gloss lacquer and packaged in a cool box that includes  a collectible, character-specific romance card, which retails for $150 USD.
The Tech2 series, functions as both a ballpoint pen and a stylus and retails for $45 USD.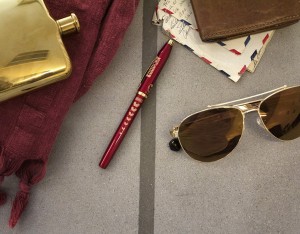 LET THE DAD IN YOUR LIFE BE GREAT! Don't give him a forgettable gift this Father's Day! Honor him with something meaningful and timeless.
Do it. Also definitely try it out before or after you give it to him because it makes you feel tres fancy. Did you see that? I typed a French word. It was definitely because I touched the pen.